Data science is becoming more and more critical so, in response, it is becoming a highly-paid professional field. Each day there is more and more formation about it, like this Master in Data Science. But, even if you learn with the best, it is important to stay up to date and for that, data science books can be the solution. 
In this article, you will find our selection of the best data science books, ideal for students or professionals who want to keep learning and improving their skills.
1. Naked Statistics: Stripping the Dread from the Data 
Author: Charles Wheelan
Printed pages: 304
Published: January 2014
Want to learn with a laid-back and humorous reading about advanced and basic statistics and other topics often used in Data Science? This is your book. Naked Statistics is a New York Times Bestseller that helps you get an overview of the field of statistics.
If you want to dive into data science concepts without feeling overwhelmed with the math, this book is a great starting point. You will be able to understand the basics and advanced needed. 
2. Data science from scratch: First Principles with Python
Author: Joel Grus
Published: April 2019
This book is all about Data Science for beginners who wish not only to learn how to do it but also to understand its principles and ideas. With a step-by-step process, you will implement from scratch different algorithms and acquire the skills for data science tools management. 
The information in this book helps the reader to become familiar with the math, statistics, algebra, and probability normally used in Data Science; along with a course in Python and enough resources to start implementing different models such as regressions or neural networks.
Do you know about the different roles within the world of data? 🖥️  Discover the job of Business Analysts.
3. Head First Statistics: A Brain-Friendly Guide

Author: Dawn Griffiths
Published: September 2008
If you are looking for a friendly and conversational way to learn practical statistics for Data Science, this Head First book is a great opportunity to do so. It is considered to be one of the best statistics books for Data Science, not only for beginners but also for experts who seek to refresh their knowledge.
The format in this statistics book is great for knowledge retention since each example is completed with graphics, interactive materials, puzzles, and real-world scenarios. 
4. Practical Statistics for Data Scientists: 50 Essential Concepts
Author: Peter and Andrew Bruce
Published: June 2017
This book is a practical guide for learning statistics especially applied to Data Science. Some examples of what you can learn from this book are how data analysis is key in Data Science, why random sampling is important, and how to use regressions to detect anomalies.  
If you are looking for a book to help you understand what is important when it comes to statistics in Data Science, this is a great option.
5. Intro to Python for Computer Science and Data Science: Learning to Program with AI, Big Data and The Cloud

Author: Paul and Harvey Deitel
Published: July 2021
This is an excellent book for learning Python programming. It is one of the newest on this list but we already consider it a must-have in your data science textbook collection. 
Reading this book helps understand how can artificial intelligence and other technologies make big changes in business and industry, and also provides hands-on processes for introducing the reader to Python programming and Data Science.
6. The Data Science Handbook: Advice and Insights from 25 Amazing Data Scientists
Author: Carl Shan, Henry Wang, William Chen, and Max Song
Published: June 2015
If you want to learn from the best experts in the world, don't miss this handbook. With the collaboration of Data Science thought leaders and practitioners, such as DJ Patil and Kevin Novak, this book is full of strategies and recipes for growing your Data Scientist expertise. 
If you are an aspiring data scientist, with this book you will get a clear overview of the field you are entering. From the roles of Data Science in organizations to tips on how to make a fruitful career, you will find that and much more in it so keep it close.
7. An Introduction to Statistical Learning: with Applications in R
Author: Gareth James, Daniela Witten, Trevor Hastie, and Robert Tibshirani
Published: June 2013
This book includes some very interesting resources for Data Science and Machine Learning practitioners. It is a more dense read so we only recommend it in case you are already familiar with the field but still, its colour graphics and real-world data science examples are great and easy to follow.
The best about this book is that each chapter is followed by tutorials for implementing what you have learned in R. 
8. Python for Data Analysis: Data Wrangling with Pandas, NumPy, and IPython
Author: Wes McKinney
Published: October 2017
Looking to learn Python? This is a practical and modern introduction guide to Data Science tools in this programming language. You will find this book suitable for you if you are a newbie in Python, but also if you are an expert in programming with Python but want to expand your knowledge into the Data Science field. 
9. Introduction to Machine Learning with Python: A Guide for Data Scientists

Author: Andreas C. Müller and Sarah Guido
Published: May 2016
Any Data Scientist seeking to learn about machine learning will find this guide very useful since it is suitable for both beginners and experts. 
Reading this book you will learn the basics of machine learning, enough to understand how they can apply to solve issues in business. Also, you will get an overview of machine learning workflows. 
10. Data Science for Business: What you need to know about data mining and data-analytic thinking
Author: Foster Provost and Tom Fawcett
Published: August 2013
The authors of this book are two renowned Data Science experts. In Data Science for Business, they walk you through the fundamentals and principles and help you develop a data-analytic mind for extracting valuable knowledge from data and supporting business decision-making. 
11. Dating Science: match with the data field
Author: Nuclio Digital School
Published: March 2023
If you are looking for an introduction to the world of data, this digital book is what you need. Five experts tell you everything you need to know about Big Data, Data Science, Artificial Intelligence, Machine Learning and Deep Learning. In addition, the illustrator Ricardo Cavolo and DALL·E 2 artificial intelligence, have been part of the design team, so the reading is accompanied by lots of color and surprises.
The best part? It's free to download.
Do it here: Download e-book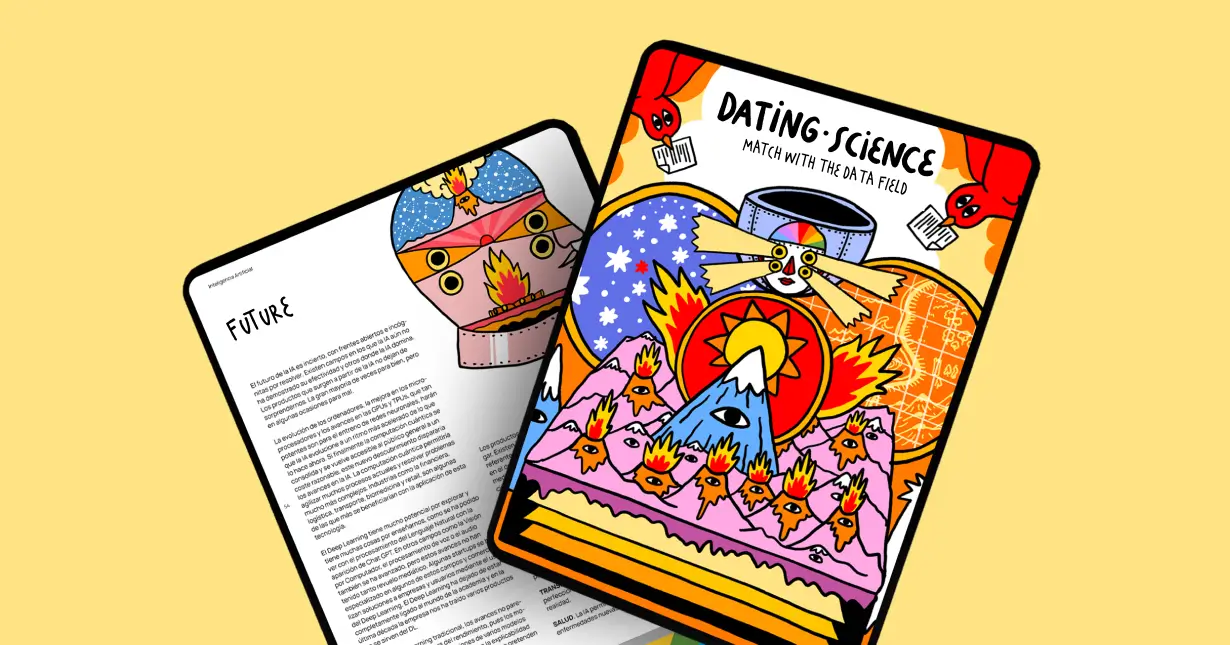 If you manage to read the whole list of books you will probably get enough knowledge to get started as a data scientist, we don't doubt it. But if you prefer to walk down that road accompanied by experts, with support and working in real cases and environments, consider this Master in Data Science.